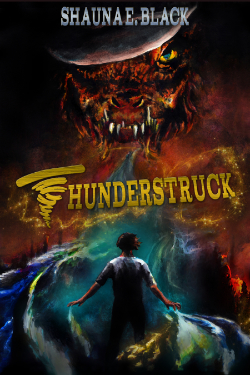 Thunderstruck
15.00 (paperback)
eBook:
$4.99
When Jesse gets struck by lightning following the death of his mother, the local weather goes haywire, and he finds himself in a world of adventure and fantasy. Mini tornadoes appear out of nowhere, and the chicken coop freezes in summer. Looking for a fresh start, Pa uproots them both to a Colorado mining town.
But there's a storm brewing in Silver Valley. A string of unusual mining accidents has locals whispering of dark magic, and the marshal sent to investigate goes missing. Only Jesse can see the shadow of a dragon hovering around the marshal's teenage assistant, Boone.
Looking for help, Boone draws Jesse into a world of danger to stop an evil skinwalker from finding an ancient pot shard hidden somewhere in Silver Valley. A master of disguise, the skinwalker could be anyone. If Boone and Jesse can't find the pot shard first, the skinwalker will bring back a reign of terror to the West!